7 key questions for designing a big bag unloading station
For smooth and economical operation of a big bag discharge station, many factors need to be considered. These individual points will be discussed below. For trouble-free and cost-effective operation, taking all these factors into account is very important.
Ingtec AG also offers solutions for handling after big bag discharge. Whether it's buffer or intermediate containers, with or without fluidization, mechanical or pneumatic further transport to the application site using dilute phase conveying for simple products or dense phase conveying for difficult-to-flow products. We are happy to advise you.
What type of bulk material is suitable for a big bag unloading station?
There are bulk materials that are optimally free-flowing. These big bags can be easily emptied into the process in a very short time.
For materials that are not readily discharging, a walking mechanism at a bulk bag emptying system can assist in their emptying. In this setup, four pneumatic cylinders are used to push up four plates located under the big bag. This activates specific areas of the big bag by pushing them upward to counteract bridging inside the big bag.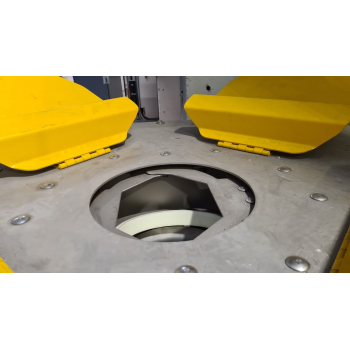 If both sacks and big bags need to be emptied, a combo station consisting of a sack dump station for manual sack emptying and the big bag discharge station can be offered.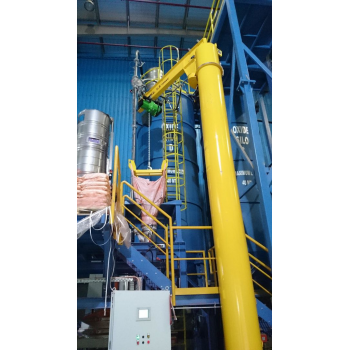 If necessary, the material can also be cleaned of contaminants using a protective screening process.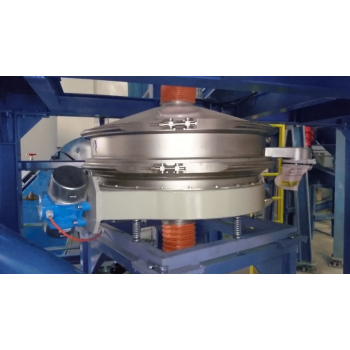 How much time is available for emptying the big bag?
For poorly free-flowing bulk materials, such as those discharged for mixer feeding in batch operations, it's advisable to completely empty the big bag into a pre-container located beneath the big bag station while the mixing process is ongoing. In a big bag unloading station, this pre-container can be equipped with fluidized discharge to ensure quick and trouble-free emptying. The powder can then be automatically dosed from the pre-container.
What does the big bag look like?
For the proper selection of the bulk bag dispensing unit and its components, the following questions need to be analyzed and considered:
Dimensions of the big bag
Diameter of the discharge outlet
Length of the discharge spout
Is the big bag equipped with an inner liner?
How many lifting loops does it have, and how long are they?
How is the big bag handled?
There are 3 options for loading big bag discharge stations:
Forklift:
The big bag can be hung in a frame using a forklift, which is then placed onto the big bag station with the help of the forklift. Alternatively, the big bag can be placed onto the frame using a lifting frame.
Chain Hoist:
If a forklift is not available, or if forklift handling is to be avoided, the big bag station can be lifted using a chain hoist attached to a trolley, which is itself attached to a beam integrated into the bulk bag dispensing system.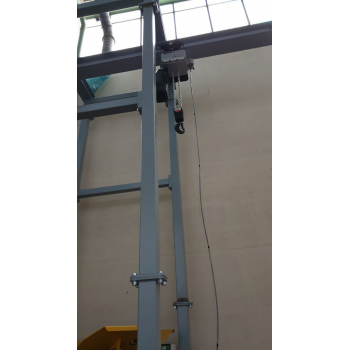 Crane:
Filling can also be done using a separate crane or an existing overhead crane.
What docking system is used in a big bag unloading station?
Does the big bag need to be emptied in a low-dust or dust-free manner?
For low-dust products at a bulk bag emptying system, the big bag can be placed directly on a discharge funnel with a rubber membrane.
On the other hand, for very fine products or products that need to be discharged in a dust-free manner (such as lead dust or red lead), the big bag discharge spout is clamped using a double-ring docking system to allow for dust-free discharge. A connection to an external dust extraction station is possible, or one can be provided by us.
What does the process look like?
Can the big bag be directly emptied into the process?
Is the entire big bag used at once, or does a measured amount need to be fed into the process, for example, using a loss-in-weight feeder? Appropriate solutions can be offered for this.
Partial emptying – sealing the big bag
If the entire contents of the big bag are not needed, the discharge spout can be compressed using pneumatically operated sliders, allowing the big bag to be resealed.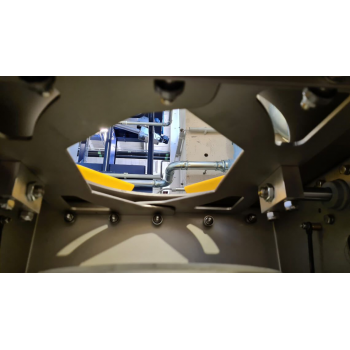 Does the product need to be transported from a big bag unloading station to the point of use?
With the help of screws or vibratory troughs, the product can be conveyed to the point of use if direct placement is not possible.
For longer conveying distances, pneumatic conveying systems for simple products or vacuum conveying for short distances can be employed right after the big bag station's collection hopper. For products that are difficult to flow or sticky, dense phase conveying can be used. We are happy to advise you on this.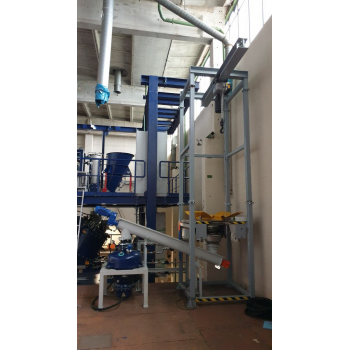 Sample taker
A sample taker for extracting material samples from the big bag can also be integrated into the system, either manually or automatically.
Big bag scale
For loss-in-weight feeding, the big bag  discharge station can also be equipped with a weighing system and a dosing system, such as a dosing screw or a rotary valve.
Mobile or stationary use of the big bag station?
Will the big bag station be used in a stationary manner, or does it need to be mobile?
If the big bag emptying is only needed sporadically and the space designated for emptying is also used for other purposes, the big bag ttation can be designed to be mobile. For this, it can be installed on wheels, and the frame can be anchored in a permanently installed holder, or it can be moved and relocated using a forklift.
Manuel Hänggi studied mechanical engineering at BA Lörrach. The specialist in plant engineering and process technology has 20 years of experience in constructing plants. Since 2019, he has been leading the family business in its second generation.