Wood Chip Conveyor Systems: Reducing CO2 Costs with Grinding Systems and Silos
In times when fossil fuels are becoming scarce and the cost of CO2 emission allowances is rising, it's worthwhile to switch to CO2-neutral fuels. Depending on the type of application and conversion, the use of CO2-neutral fuels/biomass significantly reduces the need to purchase CO2 certificates, making the payback period of the investment very attractive.
Ingtec Corporation offers complete wood processing solutions, from the delivery of raw materials to shredding, screening, storage in silos, and transportation to the point of use. We also consider modernizing burners or steam boilers as part of our services.
We are happy to advise you. Feel free to contact us by phone or email.
What can be converted?
Large combustion processes, such as the operation of rotary kilns with heavy oil, oil, lignite, or gas, can be converted through the use of modern multi-fuel burners to partially run on wood chips or wood flour.
Steam boilers fueled by oil or gas can also be converted or replaced with new boilers to operate on CO2-neutral fuels.
Wood as a CO2-Neutral Fuel
Waste or reclaimed wood, green wood, or pellets can be used as alternative fuels for burners. It's important to consider the combustion process. If burner regulation is required, the wood must be introduced into the combustion process as finely ground wood dust.
This also applies to products that require clean combustion in the combustion chamber, such as in a rotary kiln.
If this is not the case, wood pellets or wood chips can be directly blown in.
Depending on the resources available in the local wood industry, green wood can also be used. Green wood must be dried before burning. For this purpose, existing waste heat in various energy forms, such as thermal oil or similar, can often be used.
Grinding Process
Depending on the type of wood delivered (size, type of wood, age of the wood) and the application (required fineness), the grinding process is designed to be single or multi-stage.
After the first size reduction stage (approximately 6-8 mm depending on the application), the wood can be ground down to as fine as 0.5 mm wood dust using a special mill.
For this, the ground product is separated into good material and oversize particles via a screening system. The oversize particles are re-introduced into the grinding process and ground again until they reach the required fineness.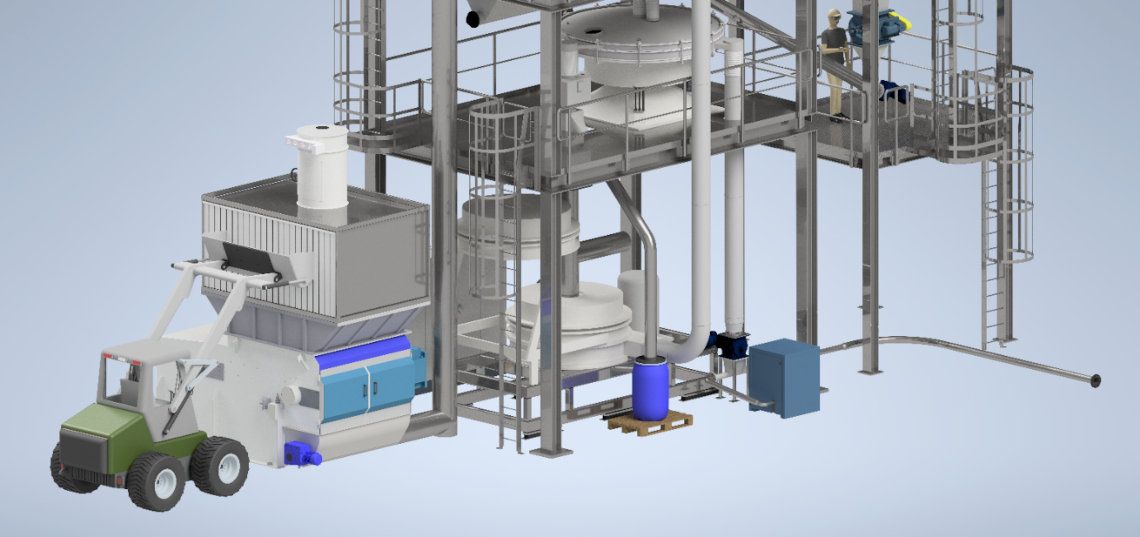 Then, either the second size reduction step follows, converting the wood chips into wood flour (fineness ranging from approximately 3 to 0.5 mm).
Drying
Between the first and second stages of grinding, a drying system can be inserted, if necessary, to remove moisture from the wood.
Efficient Conveying with Wood Chip Conveyor Systems
Subsequently, the wood is conveyed to a chip silo. Depending on the distance that needs to be covered, the transport is carried out either mechanically via a vertical screw conveyor or pneumatically via air conveying.
Storage Silos/ Storage
Storage silos are made from either concrete or steel. The location and the proximity to neighboring buildings influence the choice of silo material as well as the design of the silos to comply with fire safety regulations.
Loading can be done either mechanically via a vertical screw conveyor or pneumatically via air conveying. The fill level is determined using radar or guided wave radar technology.
We also have solutions for special cases, such as converting underground oil storage tanks into storage spaces for wood chips or pellets. We offer designs for optimal space utilization with maximum filling volume, as well as for the safe discharge of pellets and their subsequent transportation to the point of use.
Discharge of Wood Chips
The discharge from the storage silo is carried out using a specialized auger, which conveys the wood chips or sawdust to the burner for transportation.
Burner
Using air conveying, wood chips, wood pellets, or wood dust can be directly blown into existing multi-fuel burners.
If the burner needs to be operated in a controlled manner, we are happy to develop a concept for you and provide you with the appropriate burner.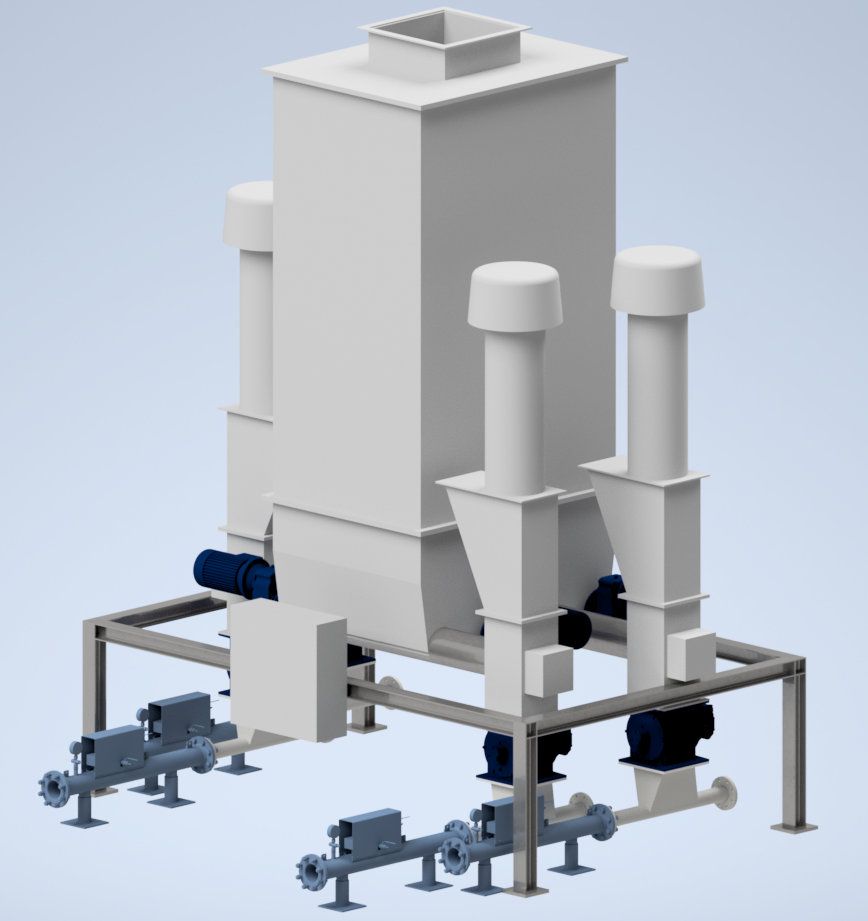 Filter
The filter for the grinding system can either be designed to be pressure shock-resistant for indoor installation, or the grinding system can be positioned in such a way that the filter is placed outdoors.
Dust-Free Wood Pellet Discharge
For the rapid, dust-free unloading of trucks into pellet bunkers, we offer solutions that allow a truck to quickly, efficiently, and dust-free discharge the pellets into the bunker.
Manuel Hänggi studied mechanical engineering at BA Lörrach. The specialist in plant engineering and process technology has 20 years of experience in constructing plants. Since 2019, he has been leading the family business in its second generation.