Fluidising discharge systems
Objectives, problems
The discharge of non-free-flowing powdery bulk materials requires special attention. For systems that operate in automatic mode, reliable, trouble-free discharge is absolutely necessary to ensure continuous operation.
Many of these powdery substances tend to compress when stored in containers, i.e. the air escapes from the pore volume (air between the individual grains). Depending on particle size, grain shape, adhesiveness and compactability, a compacted mass forms in the container which can no longer be emptied without discharge aids. This compaction effect is further enhanced by the conical shape of the container outlets.
Devices that vibrate and knock sometimes compress the product even more, especially when it comes to small grain sizes.
Solution
So-called fluidisation discharge devices have proven their worth when discharging non-free-flowing powders. Air is introduced into the bulk material column at a certain speed and quantity by means of air-permeable, porous, flat devices. Depending on the task, these devices can be designed as complete discharge cones or as flat ventilation strips which are installed in the container cone.
As air flows in, the individual particles are separated so that the adhesive forces decrease and friction between the individual grains is reduced. The bulk material becomes flowable and flows out of the container like water. The porous materials used are textile fabrics, porous sintered plastics made of PE or porous sintered metal. We prefer porous plastics made of PE and porous sintered metal. These have significant advantages over fabrics. We recommend an air inlet of sheetlike nature.
In many cases, inexpensive point-shaped air nozzles do not have the desired effect because they create so-called holes in the bulk material, do not activate the entire bulk material and thus do not guarantee flowing out.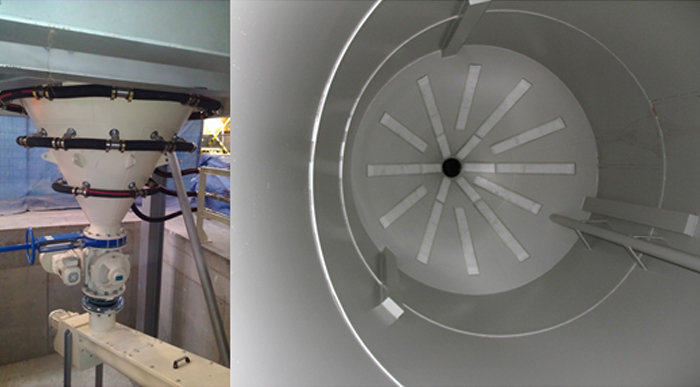 Advantages, features
Fluidising and discharging devices offer the following advantages for powdery bulk materials:
Safe discharging
Complete discharge
Increase of the practical available filling volume
Superposition of the silo with dried air with slight overpressure.
No inflow of moist fresh air during the discharging process because the
amount of fluidising air is greater than the discharging amount.
Improvement of the conveying behaviour in the case of pneumatic pressure vessel
conveying systems
Can be retrofitted in many cases.